>
>
Annotations & measures
CAD annotations and measurements on AR/VR headsets
With RCad'Touch, Mixed Reality CAD, you can annotate 3D models, measure space or CAD parts coming from your CAD software directly from your augmented reality (AR) or virtual reality (VR) headset.
RCad'Touch collaborative tools
Project meeting or product presentation
RCad'Touch is the ideal solution for your computer-aided design (CAD) project meetings.
It is a collaborative tool that allows several people to view, manipulate and assemble CAD models, even remotely.
This software offers collaborative tools such as measurement (for parts, assemblies or the real environments), annotation and comment tools, as well as an option to explode views.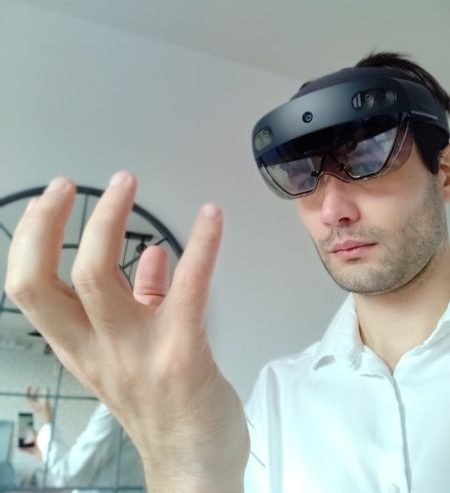 Application fields of annotation and measurements on 3D models
Layout and furnishing
RCad'Touch annotation and measurement tools allow you to :
visualize CAD files with several people during meetings, check accuracy using the measurement tool, add annotations or comments for the future steps of the project,
show your customers the evolution of their project and include them in the creation process by allowing them add their own comments to it.
Industry 4.0
RCad'Touch's annotation and measurement system will allow you to :
Take note of required improvements on a part during the first meeting with your customer thanks to the annotation tool,
Collaboration of your design office members on CAD models (even remotely).