Collaborate on CAD models with AR et VR headsets
With RCad'Touch, Mixed Reality CAD, you can collaborate around 3D models from your CAD software with augmented reality (AR) or virtual reality (VR) headsets.
Collaboration around 3D models
Project meetings or product presentations
RCad'Touch is the ideal solution to collaborate around parts that you have designed with your computer-aided design (CAD) software.
Communication / collaboration module allows you to exchange information live as if you were on video. Everyone can intervene by manipulating, parameterizing, assembling or annotating the CAD models.
Le module de communication et de collaboration vous permet d'échanger en direct comme si vous étiez en videoconference. Everyone can participate by manipulating, parameterizing, assembling or annotating the CAD models.
You will be able to exchange on a design in progress or enhance your projects during a customer presentation.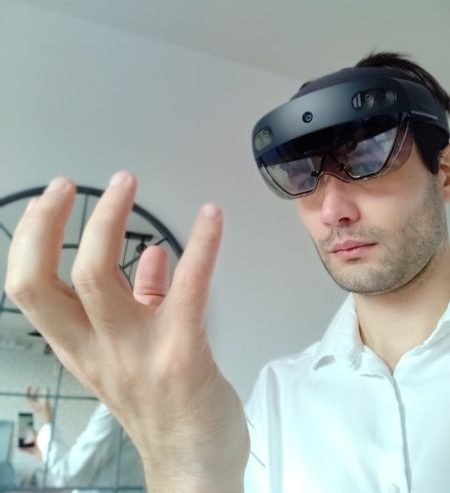 Collaborate in RCad'Touch
Easy to call
The system is simple: generate a room and you will get a login and a password that you will just have to give to your guests. They will then be able to connect to the same room as you.
Collaboration (even remotely)
Generate your different files from your computer-aided design software. Then import them into a scene via our software on your virtual reality or augmented reality headet.
Gather your team members or invite your customers around your project. An avatar will represent each participant. You will be able to communicate as if you were in a videoconference. Give them the possibility to interact on your files via the different manipulation, assembly, placement, colorization, textures, measurements and annotations options.
Application fields of collaboration around CAD models
Layout and furnishing
Collaboration around 3D models will allow you to :
discuss and annotate old projects to create new ones more easily,
discuss a new design project with several people by viewing it all at the same time in a virtual or real environment,
allow your customers to adjustments assembling and positioning in environment where your pieces of furniture and fixtures will really be.
Industry 4.0
Collaboration around 3D models will allow you to :
know when part upgrades are required if annotations are added by customes on CAD models,
increase your productivity during meetings between members of your design office about the progress of your CAD projects,
presentation of the different ways of placing your machines in your factories thanks to the real environment positioning options.