Manipulation of CAD models on AR and VR headsets
With RCad'Touch, mixed reality CAD, you can manipulate 3D models from your CAD software with augmented reality (AR) or virtual reality (VR) headsets.
Collaborative 3D Manipulation
Project meeting or product presentation
RCad'Touch is the ideal solution to manipulate with several people the parts designed with your computer-aided design (CAD) software.
You can manipulate parts or assemblies at real scale. Several people may interact on a same and apply or suggest changes on a project in a same scene thanks to our collaborative mode.
Your team will have a better understanding of your project through 3D manipulation.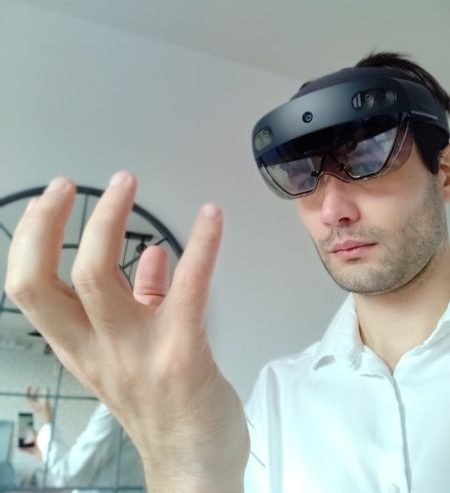 RCad'Touch Handling
Easy to use
Generate your files from your computer-aided design software, then open them with RCad'Touch from your virtual reality or augmented reality headset.
You will be able to manipulate a furniture, a layout, an industrial part, an equipment or a machine at real size.
Manipulation with hands, controlers or parameterization
In augmented reality, you only need your hands to manipulate CAD models. In virtual reality, the joysticks will allow you to select and move them. Finally, if you want to manipulate these 3D models with more accurately, you can use our parameterization and associativity commands.
Textures and colors manipulation
Our texture and color assignment feature, in addition to the automatic assignment mode, will allow you to modify the textures and colors of each CAD part.
Les domaines d'application de la manipulation 3D
L'agencement et l'ameublement
La manipulation de modèle 3D vous permettra :
d'accroître la collaboration en permettant aux membres de votre équipe de manipuler à leur guise les fichiers de CAO dans un environnement commun. Ils pourront alors convenir d'éventuelles modifications grâce aux options de mesures et d'annotations.
d'offrir la possibilité à vos clients d'interagir avec vos projets, de modifier du mobilier, d'agencer différemment grâce au positionnement dans l'espace.
L'industrie 4.0
La manipulation de modèle 3D vous permettra :
de laisser votre client vous montrer visuellement ce qu'il attend de vous lors d'un rendez-vous de prise des besoins,
de permettre la collaboration des membres vos bureaux d'étude sur les modèles CAO ou des assemblages de pièces (même à distance),
de tester l'implantation précise de vos machines dans vos usines grâce aux options de positionnement dans un environnement réel.