Assign textures and colors to your CAD models
With RCad'Touch, Mixed Reality CAD, you can assign textures and colors to your 3D models from your CAD software with augmented reality (AR) or virtual reality (VR) headsets.
Assign textures and colors in order to be close as possible to reality
Sales support tool
RCad'Touch is the ideal tool to show your pieces or furniture designed with your computer-aided design (CAD) software.
RCad'Touch fulfill the lacks in textures and material of several specific file formats by providing an automatic assignment solution during import.
You will therefore be able to present your projects to your customers in an aesthetic way by inviting them to join you in the scene.
But also : manipulate, assemble ou position CAD models.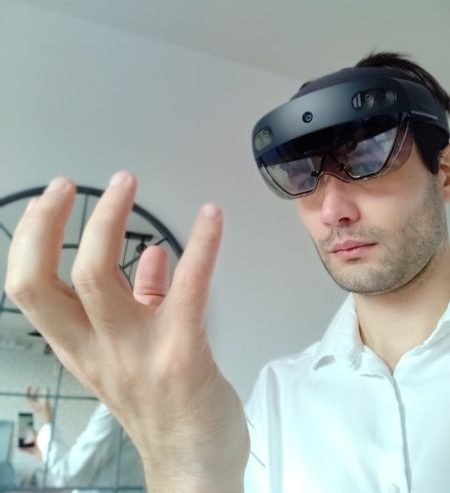 L'attribution de textures et de couleurs via RCad'Touch
Simplicité d'utilisation
Générez vos fichiers à partir de votre logiciel de conception assistée par ordinateur, puis ouvrez-les avec RCad'Touch à partir de vos lunettes de réalité virtuelle ou de réalité augmentée.
Profitez de l'attribution automatique de textures ou de couleurs via une convention de nommage.
Vous pouvez aussi modifier les couleurs et textures manuellement à partir de balles à glisser-déposer.
Application fields for CAD models texturing and coloring
Interior design and furnishing
Applying textures and colors to your 3D models will allow you to :
have a fast and realistic rendering of your CAD parts with the automatic assigment tool,
highlight all equipments and pieces of furniture of your layouts,
allow your customers to configure colors and materials by themselves.