>
>
Aeronautical industry
Mixed reality CAD for aeronautical industry (AR/VR)
Virtual technologies are essential for the development and growth of companies in all areas. Many aeronautical companies already use AR/VR softwares, mostly for designing, training, prototyping, etc.
Rcad'Touch, our collaborative AR/VR design software is the perfect tool in addition to other common computed aided design (CAD) softwares.
Collaborative AR/VR design for aeronautical industry
Invite your aeronautical engineers to work alltogether in your computer aided design projects (CAD).
RCad'Touch will allow teams that work on part design or aeronautical equipments design to meet together in a virtual environment around your company's CAD files.
Therefore, they will be able to visualize, manipulate and assemble 3D models coming from standard CAD format files such as step, ifc, etc. They will also be able to take measurements and add annotations that will improve their meetings.
Imagine your company's CAD files (parts or aeronautical equipments) could be loaded in a virtual scene and visible simultaneously from several engineers whatever their location in the world.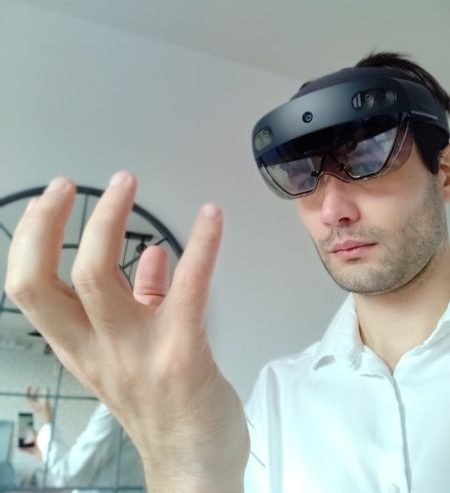 For aeronautical engineering offices

Collaborative view of aeronautical parts or assemblies during project progress meetings

Manipulate and assemble parts or structural aeronautical elements during meetings

Annotate and measure your CAD aeronautical parts in order to organize how your project progresses

Position your aeronautical parts each in relation to others and compare virtual parts to real ones
For aeronautics subcontractors

Show your aeronautical customers your parts and CAD files at 1/1 scale

Allow your aeronautical customers to manipulate your CAD files and annotate them